Your USI
The Unique Student Identifier (USI) and Training
Your USI
The USI initiative commenced on 1 January 2015 and is a reference number made up of ten numbers and letters that is free and easy to create and stays with you for life. If you are a new or continuing student undertaking nationally recognised training, you will need a USI in order to receive your qualification or statement of attainment.
The USI will give you access to an online record of your nationally recognised training in the form of a USI Transcript. This can be used when applying for a job, seeking a credit transfer or demonstrating pre-requisites when undertaking further training.
Under the Student Identifiers Act 2014 and Student Identifiers (Exemptions) Instrument 2014, training organisations are not allowed to issue a qualification or statement of attainment unless the student has a USI or the student or the training is exempt from the USI initiative.
Nationally Recognised training
Nationally recognised training is any program of training leading to vocational qualifications and credentials that are recognised across Australia. Only Registered Training Organisations (RTOs) can deliver nationally recognised training and issue nationally recognised qualifications or statements of attainment. This includes studying at a public or private training organisation, completing an apprenticeship, certificate or diploma course. Nationally recognised training courses and RTOs are listed on training.gov.au.
Even if you enrol in nationally recognised training with a training organisation to complete only part of a course, a module or a single unit you will still require a USI.
Student Quick Guide
Download a printable Student Quick Guide to find out how to create a USI, activate your USI account, update personal or contact details, retrieve a forgotten password, or allow your training organisation to view your transcript or USI account.
DOWNLOAD THE GUIDE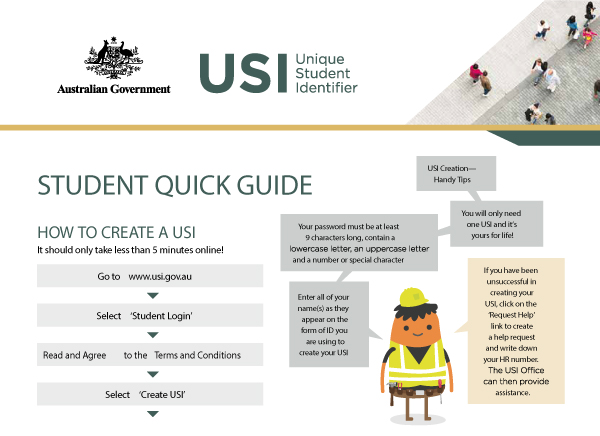 To access the downloadable documents you'll need Adobe Reader. If you don't have Adobe Reader installed, you can get it here.